Communication just got Sweeter
La communication devient plus douce
Custom your M&M's via the on-line site
My M&M's
, choose colors, messages and even pics to print on, then the packaging to get your personalised M&M's.
Le site
My M&M's
propose de créer des M&M's à son image : on choisi les couleurs, puis les messages que l'on souhaite voir imprimer, avant de finir par le packaging pour emballer ces douceurs personnalisées.
color choices : 20 printable colors within 3 shimmering, and more 5 dark non-printable colors
choix des couleurs : 20 couleurs imprimables dont 3 métallisées et 5 couleurs sombres non imprimables
picture and/or message : 2 pictures are uploadable and it's possible to transform it to make it suits perfectly on the M&M's
image et/ou message : il est possible de choisir deux photos différentes et de les ajuster aux M&M's par une petite interface de traitement d'image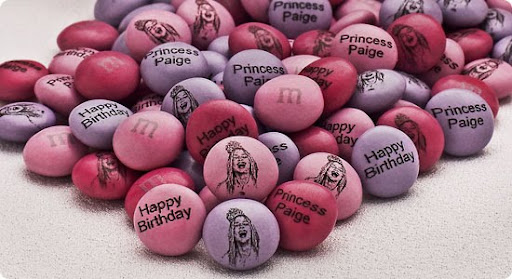 and here you are...
et voila...
It seems that the most difficult is to get inspired.
Il semble que le plus difficile soit d'avoir de l'inspiration.
My M&M's
US website
site français My M&M's